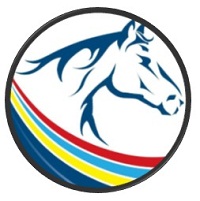 History
Isn't it amazing how ideas just come into your head, float around and then leave. But every now and then some ideas, for whatever reason, take a hold of you and push and pull until you actually get up and do something with them.
When Jack Cooper, from Victoria, Australia, visited a show in New Mexico, USA in 1974, an idea grabbed hold of him and it was never to leave. Having an interest in the Youth events due to having a daughter who was an avid Quarter Horse contestant, Jack was astounded by the professionalism of the Youth competitors at this event. Full of enthusiasm, Jack approached the judge at this show, Richard Shrake, to see if he would be interested in going across the Pacific to judge the Royal Melbourne Show Quarter Horse classes (at that time a very large Quarter Horse event). In 1975, Richard did just that, as well as giving a Youth clinic for all Quarter Horse Youth who wished to attend. While visiting, Jack took Richard to the Myers Elgee Park, home of Yulgilbar Quarter Horses. Sarah and Bails Myer and Richard hit it off, and so when Bails was approached by Jack for sponsorship for the idea that had started to form in to an actual event, involving Youth from other countries to join in one competition, Bails organised a meeting with Cadbury Schweppes, as he was a director on the Board, and from this half hour meeting, Jack emerged with $5,000 sponsorship. The product that Cadbury Schweppes were promoting was "SOLO, the thirst quencher" and what was offered in return for the financial investment was signage, banners and announcements promoting this product. Jack also came up with the idea of the "World's Biggest Cake" ever made, and at 2.4 x 2 metres, the sales from this cake made another $1,000 to add to the pool. An entry fee for spectators was charged, and with over 1,000 people coming to watch, this also added to income.
1978 saw the first Youth World Cup come to fruition. Jack Coopers' hard work and dedication pulled this great event together. It was named with a view to the future of what this event could (and has) become – Youth (as they would be the contestants and are an essential element of longevity of their Association) ; Quarter Horse – to describe the equine event; and World Cup –all encompassing and the biggest name possible as it would hopefully one day encompass a large portion of the World,. The concept was to engender camaraderie between nations, interest in other countries, and to be a positive learning experience for all the participants. It has certainly fulfilled these goals in every aspect.
The competition was held at the Victorian Equestrian centre, at Upper Beaconsfield, Victoria, and the judges were Don Burt, USA, and Phil Webb, Australia. The events contested were a great test of horsemanship skills – Halter, Western Pleasure, Western riding, Reining, Trail, English Pleasure, Cutting, and Working Cowhorse, and these were held on two separate days (effectively 2 separate shows).
There were three teams – Canada, Australia, and the USA.
The team members were: Australia –Kim McTaggart; Denise Cooper, Cameron Hordern, Duane Yates, and Leonie Fennell.
The Quarter Horse fraternity pulled together, and the "Solo" Youth World Cup was off and running! The Hawking Brothers, a Country and Western band, played for free during the breaks and herd settling, and the whole show was kindly staffed by the Victorian Quarter Horse fraternity.
The ever popular Ted Hintz, then from Queensland, did the announcing for traveling costs only, Arthur Flynn (Sean and Ed Flynn's father) was Assembly Supervisor, Max McTaggart was the team coach, and of course, Jack Cooper was the Show Manager.
The results of this competition were Canada 1st on 111 pts; Australia 2nd on 80.5 pts and USA third on 78.5 pts.
Plans then went ahead for the second Youth World Cup event in 1979. With Cadbury Schweppes on board for the first three World Cups, this event was organised in Olympia Washington, by the Pugent Sound Quarter Horse Association, who staffed the show and found all the horses for the competition. Once again, Jack Cooper was the Show manager.
The Australian team was expanded, to allow for more Youth to gain from this unique experience, to 5 riders and 4 spares. From the 63 applicants to be on the team, the final selection of the team members was - Denise Cooper(McCallum-Campey), Janice Hoskins, Craig Kefford (Reserve), Kim McTaggart, Claudia Hoffman (Reserve), Fiona Kinkela, Cameron Hordern, Leonne Fennel, and Raelene Cluny (now Higgins), with Max McTaggart again the Team Trainer.
Judges were Mel Trotter from Canada and Bryon Young representing Australia.
The Team trainer for Canada was Ed Merrill and the USA Coach was Richard Shrake. It was commented in a press release in July, 1979, that "team members have been selected to form a balanced, professional and polished team with the "aggressiveness of riding" so necessary to succeed in World Class competition".
The USA team comprised Erin Berstrom, Lisa Copenhagen, Pandi Honald, Jean Scoggin, and Dee Dee Smith. Canada's team was Cheryl Dunsmore, Kamie Irwin, Tami Link, Jenny McDonald and Brenda Sinser. The results of this competition were USA first; Canada second and Australia third.
The third Youth World Cup in 1980 did not go so smoothly. To be held in Red Deer Alberta, Canada in 1980, at the last minute, there was a problem with the youth being allowed to ride borrowed horses (US rules did not allow this) and so the Australian team were on borrowed horses competing in the Open events, at which they attained 34 high placing ribbons. The Australians were also awarded the Overall Sportsmanship Award. Jack Cooper commented " I get goosebumps thinking about their tremendous tenacity , courage and politeness in riding strange horses". The Australian team then headed off to the Youth World Show in Tulsa, Oklahoma, to compete in the Youth judging contest. The team this year consisted of Coady Buckley, Linda O'Neill, Kim McKenzie (now Campbell), Roger Wagner Junior, and Team Manager Jack Cooper.
It became apparent to Jack that this was a growing giant, and probably it was not possible for one person to undertake the whole task year after year. Discussions with the Australian QHA were not fruitful (it was still a fledgling Association) and so, in 1981, Jack approached the AmericanQHA. A meeting in 1982 between Jack, Don Treadway and Gary Griffith came up with the idea that the Texas QHA, a progressive affiliate of AQHA might be interested in the concept. 1983 saw Jack meet with Skip Parker , the TQHA Youth Activities director, at Dallas Fort Worth airport, and from this meeting, a new concept for YWC arose. Skip Parker and TQHA ran with the YWC concept.
The next YWC in 1986 was held at the Victorian Equestrian centre in Upper Beaconsfield in Victoria. New Zealand was added to the teams and it was a very successful event.
The winning USA team consisted of Melissa Hargett, Sue Hendrickson, Beto Shelton, Elizabeth Stevens, and Kristy Waters. Melissa Hargett was the High Point Rider of the show on Medora All A Wind. The Canadian team was reserve and their team members were Tara Rimmer, Laura Gardiner, Lori Louise Emick, Jason Grimshaw, and Nadine Chartrand, with Genevieve Matheson the Canadian team Co Coordinator.
The New Zealand team was managed by Val Bassett and consisted of Mark Chamberlain, Paul Lyons, Pauline Gallein, Jane Severinson, and Donna Allison.
The Australian team consisted of a number of young equestrians who have gone on to be part of Australian and US history. Sean Flynn, Scott Graham, Lloyd Neilson (Reserve High Point Rider), Rodney Peachey, and Brad Peel.
In 1998, the American QHA embraced the Youth World cup and became involved with the management of the event, renaming it the American Quarter Horse Associations Youth World Cup
Held alternately between USA and another host country, it is now held every 2 years and has been held in Australia twice since 1988 (1992 and 2004), as well as Italy, Germany, and Canada. 2012 will see it return to Kreuth, Germany, one of the largest Quarter Horse owning International countries.
The Youth World Cup is one of the greatest marketing tools in AQHA's tool box, and the last YWC saw teams from 16 nations around the World having the time of their lives in Oklahoma City. 100 horses and 85 children were all professionally organised in a smooth running, highly successful show. The Youth members were fabulous to watch as they integrated with their peers from countries (large and small) from around the World. Language barriers were overcome and it was a massive success – great friendships were made that will be ongoing. Cheering teams of friends, family and others travelled to the event, as well as adding on sight seeing and (of course!!) shopping to their itineraries.
So, this idea – a seed sown from a spark that ignited with one man going from Australia to the USA and seeing an American Quarter Horse Youth Show - has grown into this hugely successful concept. And what a wonderful thing it is, getting children (with a common interest) from around the World to learn more about other people, places, and absorb all they can about their passion and other countries culture.