AQHA YOUTH
Liz Keating (Portfolio Director)

Youth World Cup 2023 Application Form Youth World Cup 2023 Briefing Document
Youth Annual General Meeting was
not held in 2021.
The Youth Annual General Meeting will be held at the
Q22 National Championships.
Time and date to be advised.
Youth play a major role in the future of our Association. The Youth Division is about sportsmanship, friendship, having a good time and developing new skills.
At most events you will see the youth getting together and chatting. Some of our youth only see each other a few times each year. On offer are clinics and classes for all disciplines: Dressage/Hack, Western Pleasure/Trail, Campdraft/Cuting, Hunter Under Saddle and Pony Club to name a few.
International competition is available to our Youth: Trans Tasman and Youth World Cup.
Who can be a Youth Member?
The definition of a Youth is a exhibitor, 3 years to 18 years of age as at the 1st August of the current show year. Youth members are allowed to ride either their own or someone else's horses in competition. To compete for points as a Youth Member, you must be a current financial youth member of the AQHA.
Annual High Point Youth Awards - only points gained on a horse owned by the Youth or their immediate family will count
The minimum age for a youth competitor in any Open class or a Youth ridden class is seven (7) years old. Exception is Leadline and Youth Walk Jog classes.
The minimum age of a Youth competing in Youth Showmanship and Youth Halter is five (5) years of age and Open Halter classes is seven (7) years of age.
Records of points won are kept for each show year and there are a number of High Point Awards presented each year by the AQHA at their Annual Awards Night.
Come and join us, have fun, devleop your skills and make friendships that last a lifetime.
HISTORY OF THE AQHAYD
In 1985, four youth members of the AQHA met to discuss the concerns of the Australian Quarter Horse Association Youth Division (AQHAYD) in the hope of expanding its horizons and developing a strong camaraderie of youth across all states of Australia.
Since then, the AQHAYD membership has continued to grow and every AQHA National Show is a chance for the youth to gather together and celebrate their shared interests in the Quarter Horse breed.
The Youth Division is very dedicated to working towards servicing the needs of all youth by arranging and funding such events as Training Clinics, Youth Camps and Sponsorship of Youth in international competition.
The Youth Division is working towards their goal of a bigger and better Youth organisation for all Youth Members.
As part of this effort, they aim to network with Youth Members all over the country to promote incentives to encourage and support both new and current members.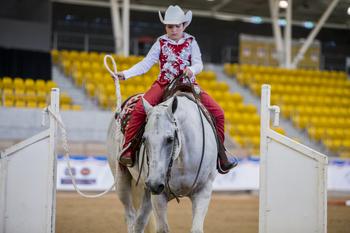 2019 YOUTH DIVISION AGM MINUTES
2018 Youth Division AGM Minutes
2017 Youth Division AGM Minutes
2016 Youth Division AGM Minutes