The AQHA was incorporated in 1972 and over the years has expanded to serve a rapidly growing and diverse industry. In addition to preserving the breed through the Stud Book and record-keeping, the AQHA is also dedicated to serving each of its Members.
Quarter Horses excel in most equine disciplines. They are still used in traditional grazing operations, sporting disciplines, Western Pleasure, Cutting, Reining or Working Cowhorse and the Quarter Horse continues to rise in popularity.
The Quarter Horse can be found in more traditional areas like Pony Club, Hacking, Dressage, Show Jumping, Polo and Polocrosse and through its natural cattle sense, Campdrafting. The AQHA strives to provide programs and services beneficial to all members and ultimately the Quarter Horse.
AQHA Statistics
Over 5,000 Members nationally and internationally
Over 190,000 horses registered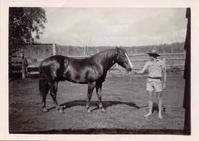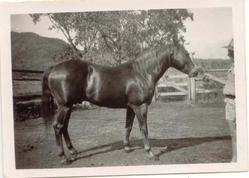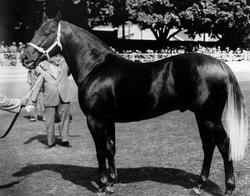 DOWN THROUGH THE AGES
1954
Arrival of the first four stallions imported from King Ranch (USA). Three stallions, Vaquero*, Jackaroo* and Gold Standard* were for the newly established King Ranch QH Stud in Queensland. The fourth, Mescal*, was gifted to the Hordern family.
1961
Three more stallions arrive, Tejano Chico*, Pronto Mio* and Alazan De Lela*. Significantly this consignment also included the first eight purebred mares, enabling King Ranch to produce purebred foals.
– Jackaroo* was the first American Quarter Horse to be auctioned at the Annual King Ranch Sale, setting an Australian record price at 3,000 guineas ($6,300).
1963
King Ranch imported their largest consignment - five stallions and ten purebred mares variously owned by King Ranch, Sir Rupert Clarke and Sarah Myer.

Jackaroo* was the first American Quarter Horse to be auctioned at the Annual King Ranch Sale, setting an Australian record price at 3,000 guineas ($6,300).
1964
The formation of the Australian Quarter Horse Association with Peter Baillieu, elected as President. The aim of the Association was to further the Quarter Horse breed while maintaining the quality of the progeny.
Milton Park, Bowral, NSW, was the location of the first AQHA Office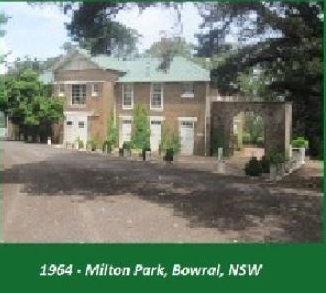 1966
Pronto Mio* became the second imported purebred stallion offered for auction fetching $11,550. He was the first stallion to stand in WA.

Grahame Greenup and Alastair Bassingthwaighte's syndicate imported Flapper's Breeze*, the first AmQHA Champion and only the second non-King Ranch stallion.

Alfie's Cat* and Mr Flagg Call* were imported by the American, Denton Hughes
1967
King Ranch and Joyce & Joyce brought out a further five stallions and nine mares.
Quarter Master was the first Australian-bred purebred stallion sold at auction. His price of $10,000 was a record for sire, Vaquero*.

Greg Lougher and his family brought out the largest single consignment of horses (30 incl. stallions,
mares and foals) to establish Clover Leaf QH Stud in NSW
1968
The Brisbane Exhibition was the first of the "Royals" to include led-in classes for Quarter Horses. Sydney Royal followed in 1969
The AQHA Office moved to RAS, Moore Park Showground, Sydney, NSW
1969
King Ranch brought out an influential young Texan, Ronnie Kellum, to train and show their horses. With wins in major events Ronnie made quite an impact before returning home.
1970
the first AQHA Awards of Honour were granted to four outstanding imports in recognition of their contribution to the breed. They were Vaquero*, Mescal*, Clover Drift* and Clover Lori*.
The AQHA Office moved to 140-144 Sussex Street, Sydney NSW
1971
King Ranch Quarter Chime was awarded Australia's first AQHA Champion following a very successful show career. Her half brother, King Ranch Quarter Banjo, was the first horse to be awarded with a ROM (Register of Merit) for Performance that same year
1972
The Australian Quarter Horse Association was incorporated.
The AQHA Office moved to 68 Berry Street, North Sydney, NSW
1974
The AQHA Office moved to 13 Ernest Street, Crows Nest, NSW
1977/1978
The AQHA Office moved to 7 Young Street, Neutral Bay, NSW
1978
First AQHA National Championships where held at Melbourne Showgrounds
1987
The AQHA Office moves to Kable Avenue, Tamworth, NSW
1995
The AQHA Office moved to Darling Street, Tamworth, NSW
1997
The inaugural inductees to the AQHA Hall of Fame were Vaquero Q1, Gregory Lougher and the King Ranch Australia P/L.
2004
AQHA Office moves to Gunnedah Road, Tamworth, NSW
2010
AQHA purposeley built new offices at 13 Jack Smyth Drive, Hillvue, NSW