18 - 20 july 2019 Melbourne, Australia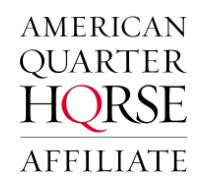 INAUGURAL AUSTRALASIA-AFRICA SUMMIT 2019
The American Quarter Horse Association conducted the above Summit from 18 to 21 July 2019 in Melbourne, Australia.
AmQHA President Stan Weaver, and his wife Nancy, attended the summit accompanied by Dr Anna Morrison (Chief International Officer) and Sierra Kane (Manager of International Activities).
AmQHA Judge, Joe Carter from Canada, officiated at the Judges Education Day and Kathy Avolt, from AN EQUINE PRODUCTION, presented the Show Management Seminar.
The Agenda flowed well over the 4 days.
There are 4 International Regions:
CANADA
EUROPE
AUSTRALIASIA-AFRICA
LATIN AMERICA
The goals of the International Task Force are:
To examine the goals of establishing new affiliates and develop guidelines for minimum requirements that provide opportunity for involvement and growth;
To examine the existing European and Latin American Championship events and make recommendations for the structure of future International Championship events;
Country High Points – to recognise exhibitors by division and class for the points earned in their country of residence each calendar year
International High Points - to recognise exhibitors by division and class for points earned in in total, regardless of country each calendar year
International Constant Competitor – Recognises International competitors who have attended the highest number of AmQHA approved events in the calendar year
The information for these awards will come from the Show Management; AmQHA will be responsible for calculating the points behind these awards.
International Stewards – AmQHA has a clearly structured and functional domestic Steward program and will be developing a plan for funding, structure, and implementation of an International Stewards program.
Youth World Cup
The Executive Committee has arrived at the conclusion that this event will be most successful if it continues to be managed by the members and volunteers who are close to it. AQHA Staff will take a step back from any active or passive management role.
The name of this event has been changed to "AMERICAN QUARTER HORSE YOUTH WORLD CUP" the word "Association" has been dropped.
The AmQHA has committed to a sponsorship of $20,000 for YWC 2020.
International World Show Participation
The goals are to explore and make recommendations for increasing international member participation in world shows.
Business Plan Funding
Goals – Grow the AmQHA horse registration population and membership within each country
Available to International Affiliates and is calculated on the number of AmQHA registered horses and AmQHA members within that country.
An International Affiliate must maintain a minimum population of 100 registered American Quarter Horses and 50 AmQHA members.
There are three categories within the Business Plan funding scheme:
Category 1 - Education
Category 2 - Competition/Event support
Category 3 - Marketing & Membership
Judges Education Day
Conducted by Joe Carter AmQHA Judge.
The participants at the summit were well entertained by Joe's stories of his experiences, whilst being coached in scoring systems for Pattern classes, Ranch Riding, Ranch Trail, Hunt Seat Equitation.
Our Judges in attendance, and people that aren't judges, spoke up and queried Joe's reasoning for the scores that he placed on the exhibitors in the videos. It was a very full day and the members in attendance did not let Joe of lightly with questions continually flowing back and forth.
Show Management Day
Conducted by Kathy Avolt
It is amazing how different shows are organised in America compared to Australia. Here we rely on volunteers; in America they use someone like Kathy from AN EQUINE PRODUCTION to totally organise their event.
From the show schedule to the clean up at end of the show, all done for some American Affiliates by a professional management team.
Some of the following tips from Kathy were as follows:
Arrange your show schedule to suit your area
Make sure that you have all aspects of the show organised well before the date, where possible.
Make sure all your equipment is in order
Remember that we are a Customer Service Industry
Hospitality – can make or break a show – suggestions:
donuts on the counter at the Show Office – purchase them from someone local to your venue, let them know why you are buying them, next time you may receive a discount, or they may become a sponsor;
Give every competitor at your event a token, that has your logo on it, not for money value, but to handed in when they go out for dinner at a particular local restaurant – ask the restaurant to keep the tokens and at the end of the event, the restaurant owner may be surprised how many people from your event went there for dinner. This could be a potential sponsor for your event in the future.
Even though you may not have sponsorship at this time from local businesses, make them aware that your event is going to be on. This can be done by a small flyer handed out or placed in the window. Another potential sponsor in the future??
Brand your prizes/awards – don't give these out with no information on them – brand them with your logo so that other people know where you won them.
The AmQHA announced that they are contemplating holding an AmQHA Australasia-Africa Summit every 2 years, so keep your eye out for the next one.
Thank you to Stan Weaver and his wife Nancy for attending our Summit, it was a pleasure meeting you both.
To Anna and Sierra it was wonderful to finally put a face to a name, your preparation and input at the Summit was appreciated.